It used to be that you had to work at getting toxic or just not do your homework about hazardous environmental pollutants.  By that I mean that you would either not read labels on food and unwittingly digest such toxins MSG, High Fructose Corn Syrup, pesticide laden fruits and vegetables, and BHT preservative.  At least if you were aware of these things you could make educated decisions at the supermarket as a consumer and avoid the poisons in your diet.  If you understood the dangers of cellphones, which are now an indispensable part of our lives, you could at least not hold an iPhone or Android device up to your ear.  You could hear and speak by means of a tinny speaker and minimize or avoid any dangerous EMF going into your brain.  If you were unaware of the mercury toxins that negatively affect your health courtesy of your friendly neighborhood dentist who unwittingly delivered this incredibly destructive toxin through the silver amalgam fillings you got as a kid. (Don't believe me? Ever wonder why they were banned in Norway, Sweden, Austria, Denmark, and Japan or partially banned in Canada?) This is all well and good..right?  Well now you don't even have to work at it.  You just walk outside when one of those massive and unsightly chemtrails are sprayed by whomever is doing this (I'm not going to speculate here on who is doing this or why) and you receive an unhealthy dose of aluminum, which is a known neurotoxin.  So now basically almost 100% of the population IMO is toxic to one extent or another.  That means that you probably have to work on some sort of heavy metal detox protocol to remain in optimum health for the long term.  In future posts I will discuss what this might mean.
R.I.P. Steely Dan Co-Founder Walter Becker
image: https://www.analogplanet.com/images/styles/600_wide/public/0902BECKERS.JPG?itok=-YoPLgsp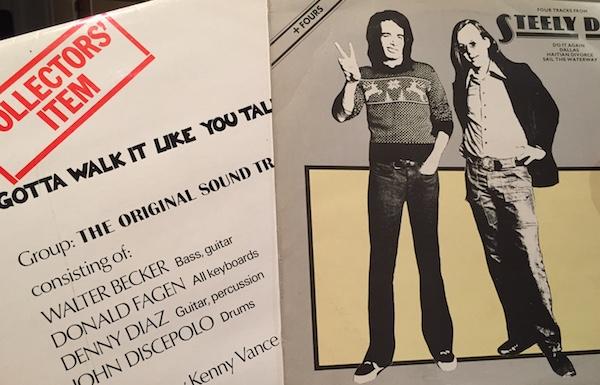 Steely Dan co-founder, guitarist and Donald Fagen's song writing partner Walter Becker died Sunday at age 67. No cause of death has been given. Becker and Fagen met in 1967 while students at Bard College. Becker had missed July concerts because of illness but was expected to "recover from a procedure" and re-join the tour. His doctor had advised him to stay home during that time.Three years after releasing 
Gaucho
 in 1980, the duo broke up. Twenty years later they re-united for 
Two Against Nature
, which won four Grammys including Album of the Year. The last Steely Dan album was 2003's 
Everything Must Go
. In a moving tribute to his late partner, Fagen today wrote:
Walter Becker was my friend, my writing partner and my bandmate since we met as students at Bard College in 1967. We started writing nutty little tunes on an upright piano in a small sitting room in the lobby of Ward Manor, a mouldering old mansion on the Hudson River that the college used as a dorm.
We liked a lot of the same things: jazz (from the twenties through the mid-sixties), W.C. Fields, the Marx Brothers, science fiction, Nabokov, Kurt Vonnegut, Thomas Berger, and Robert Altman films come to mind. Also soul music and Chicago blues.
Walter had a very rough childhood – I'll spare you the details. Luckily, he was smart as a whip, an excellent guitarist and a great songwriter. He was cynical about human nature, including his own, and hysterically funny. Like a lot of kids from fractured families, he had the knack of creative mimicry, reading people's hidden psychology and transforming what he saw into bubbly, incisive art. He used to write letters (never meant to be sent) in my wife Libby's singular voice that made the three of us collapse with laughter.
His habits got the best of him by the end of the seventies, and we lost touch for a while. In the eighties, when I was putting together the NY Rock and Soul Review with Libby, we hooked up again, revived the Steely Dan concept and developed another terrific band.
I intend to keep the music we created together alive as long as I can with the Steely Dan band.
Donald Fagen
September 3 2017
A tough day for fans, a tougher day for Donald Fagen. Break out the records and play today.
Read more at https://www.analogplanet.com/content/rip-steely-dan-co-founder-walter-becker#cWyIwcxS0gOtBwKy.99You could be blissfully unaware of the mercury toxins a dentist puts in your mouth when he gives you a silver amalgam filling.  (for those of you unaware of this – at last count this practice is now banned in Norway, Sweden, Denmark, Austria, and Japan. Ever wonder why?)For those who are really aware, there are even a few diodes you can attach to a mobile phone that will ameliorate EMF's even more to a degree.  However, c